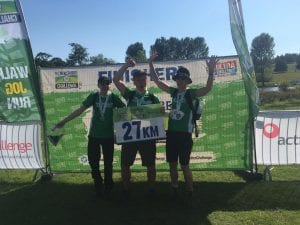 On Saturday, July 17, Team Talk Straight bravely took on the Yorkshire Challenge in aid of Macmillan Cancer Support.


Sallie, Lee and Jake battled through blistering heat and blistered feet to trek 27km across the rugged terrain of the Yorkshire countryside, from Nidderdale to Ripley Castle.
It was the hottest day of the year so far, reaching temperatures of 28°C, which at times made the challenge seem almost impossible, but the team rallied together to get each other across the finish line in the knowledge that it was all for a fantastic cause.
Talk Straight have set a goal of raising £4,250 for Macmillan Cancer Support's Yorkshire Appeal, which aims to raise additional funds to cover their emergency response and vital services that are needed to support the 179,000 people currently living with cancer in the region. This will cover the cost of a Speech and Language Therapist for one month. For those who have been diagnosed with Head and Neck Cancer, a Speech and Language Therapist is invaluable in helping them prepare for lifechanging surgery and providing practical and emotional support around changes or loss of their speech.
Rebecca Shanks a Macmillan Fundraising Manager in Yorkshire said: "Everyone at Macmillan would like to extend our huge thanks and congratulations to the Talk Straight team, this amazing amount will make a massive difference to people living with cancer here in Yorkshire.
"The pandemic has had a devastating impact on Macmillan's income, we anticipate a loss of around a third of our fundraising revenue this year; so the fact that the brilliant team from Talk Straight took on a feat like this on the hottest day of the year means the world.
"We know it's not easy for anyone at the moment but having a diagnosis of cancer on top of everything else is devastating. Macmillan lost over £1 million in Yorkshire last year because of the pandemic, at this time our supporters, and every donation they receive, has never mattered more."
Completion of the Yorkshire Challenge successfully raised £1,250 towards the goal, but there's still more work to be done. To contribute to this worthy cause, please visit the Talk Straight Just Giving page.