The Best VoIP Phone Services for Schools
The PSTN switch-off is coming and schools will need to switch to VoIP. Here's everything you need to know.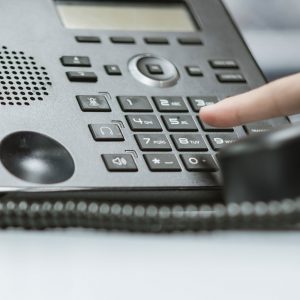 Did you know BT has already started the withdrawal of PSTN phone lines meaning schools will need to switch to a VoIP phone service or lose their phone line. 
There are big benefits to switching to VoIP. As VoIP services run over an internet connection, no line rental is required, providing savings of up to 70%. 
But with so many out there, what is the best VoIP option for schools and what do you need to know when making your decision?
What is the P

ST

N switch off?
The Public Switch Telephone Network (PSTN) will close in December 2025. The national withdrawal of copper-based phone lines means over 12 million lines must be switched to a VoIP phone service. If your school does not already use a VoIP phone service, it's a good idea to start planning the switchover now.
Features to look out for in a

school VoIP telephony system
The ever-growing requirements of modern schools striving to meet the needs of the changing education landscape, all while complying with regulations and contending with tight budgets means that any regular VoIP system designed for business  won't  suffice. Here are some key features to look out for when choosing your school VoIP service: 
Cost-efficient:

While your

school

will already be saving money by not requiring line rental, you may find yourself having to set aside part of your budget to purchase new handsets, so it always pays to bear

cost-efficiency

in mind. Look out for a service that offers

free call packages

or deals on

free handsets

to save as much money as possible.

 

Scalable and flexible:

Schools

are different to businesses in the pace that they change to address

new regulations

and the needs of staff, pupils and parents. You will need a

phone system

that can easily grow with your

school

, allow flexibility to add new users and

handsets

, give you complete control over configuration, and absolute transparency over usage and performance.

 

Tools for schools

:

In order to manage unique

school requirements

such as

absence lines

, parent enquiries, back-office functions, and

working from home

,

schools

should choose a

VoIP service

that comes with all the tools required to make that happen. Look out for

Call Groups

,

Auto-Attendant

,

Message Alerts

, and the ability to use

staff mobile phones

with no extra call charges.



The Only

VoIP Phone Service Designed for Schools
My School Phone by Schools Broadband is a complete VoIP telephony service for schools and MATs. It is packed with clever features and provides a comprehensive range of facilities that will help to improve operational efficiency in your school.
Packed with features
Linking landlines to mobiles, voicemail to email and with free UK landline and mobile calls, My School Phone provides a number of benefits for schools and Multi Academy Trusts. No matter how often your school changes or grows, My School Phone can change with you:  amend or add new users, add extra phones to the network, or update your system preferences. You have complete control of your phone network configuration. My School Phone comes as a fully featured system with administrative features that make it easy to manage and monitor your usage, performance and costs.
Homeworking phone system
The My School Phone remote phone feature lets school staff make, answer and transfer incoming calls from any location or any mobile phone, enabling staff to answer calls at home. The remote phone feature works with or without internet access. Where internet access is not available, a mobile phone app is downloadable to Apple or Android devices, enabling staff to answer school calls on their own devices, and then transfer the call, or ask the caller to leave a voicemail message. Mobile phones are NOT charged for calls made or received on personal mobile devices when using the My School Phone mobile app.
Now is the time to

switch to VoIP
The PSTN switch-off is drawing ever closer, and in addition to free calls, Schools Broadband are now offering free handset deals, making now the best time ever for schools to switch to VoIP.